Narrow Bandpass Filters, HW < 3 % of CWL
Standard Narrow Bandpass Filters in stock, subject to prior sales (Wavelength range UV, VIS, NIR & IR).
General Specifications: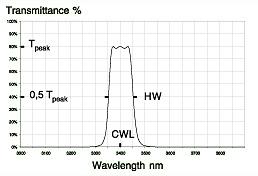 Diameter: 25.4 mm +0/-0.2 mm. Custom sizing
Thickness: Specified in the filter list below (mm), tol ±0.1 mm
Blocking: Avg < 0.1 % UV to block high
Slope: < 5 % defined as:
%Slope =

λ(80% of Tpeak) - λc

λc

x 100
Spectral measurements:
Spectral curve at room temperature and normal incidence angle is supplied with each filter type.
Description: NB-CWL-HW in nanometers (HW 50 % Tpeak)
Click on the Description, to see spectral characteristics for the filters in stock.
Description

Substrate

Thk

CWL
+/- tol

HW
+/- tol

Transm
> %

Block high

NB-0325-010 nm

Color glass

4.00

3,00

5,00

50,00

1200,00

NB-0375-010 nm

Color glass

1.00

3,00

2,00

50,00

750,00

NB-0382-002 nm

Color glass

4.00

2,00

1,00

50,00

1200,00

NB-0392-006 nm

Color glass

3.50

3,00

2,00

50,00

800,00

NB-0420-012 nm

Glass

4.00

3,00

2,00

40,00

1200,00

NB-0423-010 nm

Color glass

5.00

3,00

2,00

40,00

1200,00

NB-0430-007.5 nm

Color glass

5.50

3,00

2,00

50,00

1200,00

NB-0445-020 nm

Color glass

3.30

5,00

4,00

70,00

700,00

NB-0447-012 nm

Glass

4.00

2,00

2,00

40,00

1200,00

NB-0475-014 nm

Color glass

4.00

5,00

3,00

60,00

1200,00

NB-0517-010 nm

Color glass

4.50

3,00

2,00

60,00

1200,00

NB-0537-012 nm

Color glass

4.00

3,00

2,00

60,00

1200,00

NB-0541-006 nm

Color glass

3.00

3,00

2,00

60,00

1200,00

NB-0542-006 nm

Color glass

2.00

3,00

2,00

60,00

1200,00

NB-0543-005.2 nm

Color glass

2.00

2,00

1,00

60,00

1200,00

NB-0546-005 nm

Color glass

2.00

5,00

1,00

70,00

1200,00
| | | | | | | |
| --- | --- | --- | --- | --- | --- | --- |
| NB-0550-006 nm | Color glass | 4.00 | 3,00 | 2,00 | 60,00 | 1200,00 |
| NB-0555-008 nm | Color glass | 4.00 | 5,00 | 3,00 | 60,00 | 1200,00 |
| NB-0567-010 nm | Color glass | 2.00 | 5,00 | 3,00 | 60,00 | 1200,00 |
| NB-0568-008 nm | Color glass | 4.00 | 3,00 | 2,00 | 60,00 | 1200,00 |
| NB-0571-011 nm | Color glass | 3.60 | 3,00 | 2,00 | 60,00 | 1200,00 |
| NB-0590-012 nm | Glass | .50 | 3,00 | 2,00 | 70,00 | 1200,00 |
| NB-0594-005 nm | Color glass | 4.00 | 3,00 | 2,00 | 60,00 | 1200,00 |
| NB-0594-012 nm | Color glass | 4.50 | 3,00 | 2,00 | 60,00 | 1200,00 |
| NB-0600-012 nm | Color glass | 3.50 | 3,00 | 2,00 | 60,00 | 1200,00 |
| NB-0605-003.5 nm | Color glass | 3.50 | 2,00 | 1,00 | 60,00 | 1200,00 |
| NB-0610-010 nm | Color glass | 2.00 | 5,00 | 2,00 | 60,00 | 1200,00 |
| NB-0624-012 nm | Color glass | 3.50 | 3,00 | 2,00 | 70,00 | 1200,00 |
| NB-0626-014 nm | Color glass | 3.00 | 3,00 | 2,00 | 50,00 | 1200,00 |
| NB-0636-012 nm | Color glass | 3.00 | 5,00 | 3,00 | 60,00 | 1200,00 |
| NB-0637-014 nm | Color glass | 3.00 | 3,00 | 3,00 | 70,00 | 1200,00 |
| NB-0644-010 nm | Color glass | 2.00 | 2,00 | 2,00 | 70,00 | 1200,00 |
| NB-0670-010 nm | Color glass | 4.00 | 3,00 | 2,00 | 60,00 | 1200,00 |
| NB-0673-011 nm | Color glass | 2.00 | 3,00 | 3,00 | 70,00 | 1200,00 |
| NB-0676-012 nm | Color glass | 3.00 | 5,00 | 2,00 | 60,00 | 1200,00 |
| NB-0676-013 nm | Color glass | 3.00 | 3,00 | 2,00 | 60,00 | 1200,00 |
| NB-0677-017 nm | Glass | 3.00 | 5,00 | 3,00 | 60,00 | 1200,00 |
| NB-0712-012 nm | Color glass | 3.00 | 3,00 | 2,00 | 60,00 | 1200,00 |
| NB-0716-011 nm | Color glass | 3.00 | 3,00 | 3,00 | 60,00 | 1200,00 |
| NB-0723-011 nm | Color glass | 3.30 | 3,00 | 2,00 | 70,00 | 1200,00 |
| NB-0723-012 nm | Color glass | 3.00 | 3,00 | 2,00 | 60,00 | 1200,00 |
| NB-0725-011 nm | Color glass | 3.10 | 5,00 | 2,00 | 60,00 | 1200,00 |
| NB-0764-006 nm | BK7 | 3.50 | 2,00 | 1,00 | 80,00 | 850,00 |
| NB-0890-009 nm | Color glass | 3.00 | 5,00 | 3,00 | 60,00 | 1200,00 |
| NB-0903-007 nm | Cemented | 3.00 | 5,00 | 3,00 | 60,00 | 1200,00 |
| NB-0912-008 nm | Color glass | 3.20 | 3,00 | 2,00 | 70,00 | 1200,00 |
| NB-0925-034 nm | Glass | 2.50 | 10,00 | 7,00 | 65,00 | 1200,00 |
| NB-0990-015 nm | Glass | .50 | 10,00 | 3,00 | 70,00 | 1200,00 |
| NB-1045-015 nm | Glass | 1.50 | 5,00 | 5,00 | 70,00 | 1180,00 |
| NB-1050-020 nm | Glass | .50 | 5,00 | 5,00 | 70,00 | 1200,00 |
| NB-1057-020 nm | Glass | 1.00 | 5,00 | 3,00 | 60,00 | 1200,00 |
| NB-1064-020 nm | Glass | 1.00 | 5,00 | 3,00 | 70,00 | 1200,00 |
| NB-1067-014 nm | Glass | 1.00 | 5,00 | 3,00 | 70,00 | 1200,00 |
| NB-1069-020 nm | Glass | 1.50 | 5,00 | 3,00 | 70,00 | 1200,00 |
| NB-1069-028 nm | Glass | 1.00 | 5,00 | 5,00 | 60,00 | 1200,00 |
| NB-1070-028 nm | Glass | .65 | 5,00 | 5,00 | 85,00 | 1200,00 |
| NB-1150-010 nm | Glass | 1.80 | 5,00 | 3,00 | 50,00 | 1200,00 |
| NB-1190-010 nm | Glass | 1.80 | 5,00 | 3,00 | 50,00 | 3000,00 |
| NB-1225-010 nm | Glass | .30 | 5,00 | 3,00 | 50,00 | 3500,00 |
| | | | | | | |
| --- | --- | --- | --- | --- | --- | --- |
| NB-1225-048 nm | Silicon | 1.00 | 10,00 | 10,00 | 60,00 | 3500,00 |
| NB-1330-025 nm | Glass | .80 | 10,00 | 5,00 | 70,00 | 3200,00 |
| NB-1350-048 nm | Glass | .50 | 10,00 | 10,00 | 50,00 | 3200,00 |
| NB-1360-010 nm | Glass | 1.00 | 5,00 | 3,00 | 50,00 | 3500,00 |
| NB-1450-032 nm | Glass | .80 | 10,00 | 5,00 | 50,00 | 3500,00 |
| NB-1460-011 nm | Glass | 1.00 | 10,00 | 3,00 | 50,00 | 3500,00 |
| NB-1530-035 nm | Glass | .80 | 10,00 | 7,00 | 70,00 | 3500,00 |
| NB-1533-060 nm | Glass | 1.00 | 10,00 | 10,00 | 70,00 | 3500,00 |
| NB-1557-019 nm | Glass | .80 | 10,00 | 5,00 | 70,00 | 3200,00 |
| NB-1600-033 nm | Glass | .80 | 10,00 | 5,00 | 65,00 | 3500,00 |
| NB-1600-040 nm | Glass | .50 | 10,00 | 10,00 | 70,00 | 3500,00 |
| NB-1600-063 nm | Glass | 1.00 | 10,00 | 10,00 | 70,00 | 3500,00 |
| NB-1608-041 nm | Glass | 1.00 | 10,00 | 5,00 | 70,00 | 3500,00 |
| NB-1612-033 nm | Glass | .80 | 10,00 | 5,00 | 70,00 | 3500,00 |
| NB-1625-065 nm | Glass | .80 | 10,00 | 10,00 | 70,00 | 3500,00 |
| NB-1640-050 nm | Glass | 1.00 | 10,00 | 10,00 | 70,00 | 3500,00 |
| NB-1655-010 nm | Glass | 1.00 | 5,00 | 2,00 | 60,00 | 3500,00 |
| NB-1690-009.5 nm | Glass | 1.00 | 10,00 | 3,00 | 60,00 | 3500,00 |
| NB-1692-010 nm | Glass | 1.00 | 10,00 | 3,00 | 60,00 | 3500,00 |
| NB-1692-037 nm | Glass | .80 | 10,00 | 5,00 | 70,00 | 3500,00 |
| NB-1705-020 nm | Glass | 1.00 | 10,00 | 5,00 | 70,00 | 3500,00 |
| NB-1705-048 nm | Glass | 1.00 | 10,00 | 10,00 | 70,00 | 3500,00 |
| NB-1710-009 nm | Glass | 1.00 | 10,00 | 3,00 | 50,00 | 3500,00 |
| NB-1710-048 nm | Glass | 1.00 | 10,00 | 10,00 | 70,00 | 3500,00 |
| NB-1720-025 nm | Glass | 1.00 | 10,00 | 5,00 | 70,00 | 3500,00 |
| NB-1722-025 nm | Glass | 1.00 | 10,00 | 5,00 | 70,00 | 3500,00 |
| NB-1724-025 nm | Glass | 1.00 | 10,00 | 5,00 | 70,00 | 3500,00 |
| NB-1726-024 nm | Glass | 1.00 | 10,00 | 5,00 | 70,00 | 3500,00 |
| NB-1730-032 nm | Glass | 1.00 | 10,00 | 10,00 | 70,00 | 3500,00 |
| NB-1733-030 nm | Glass | 1.00 | 10,00 | 5,00 | 70,00 | 3500,00 |
| NB-1740-012 nm | Glass | .50 | 10,00 | 3,00 | 70,00 | 3500,00 |
| NB-1740-025 nm | Glass | 1.00 | 10,00 | 5,00 | 70,00 | 3500,00 |
| NB-1743-010 nm | Glass | 1.00 | 10,00 | 3,00 | 50,00 | 3500,00 |
| NB-1759-010 nm | Glass | 1.00 | 5,00 | 5,00 | 50,00 | 3500,00 |
| NB-1765-035 nm | Glass | 1.00 | 10,00 | 5,00 | 70,00 | 3500,00 |
| NB-1790-019 nm | Glass | .50 | 10,00 | 5,00 | 70,00 | 3500,00 |
| NB-1800-040 nm | Glass | 1.00 | 10,00 | 10,00 | 70,00 | 3500,00 |
| NB-1805-010 nm | Glass | 1.00 | 5,00 | 3,00 | 50,00 | 3500,00 |
| NB-1805-048 nm | Glass | 1.00 | 10,00 | 10,00 | 70,00 | 3500,00 |
| NB-1810-010 nm | Glass | 1.00 | 10,00 | 3,00 | 60,00 | 3500,00 |
| NB-1810-051 nm | Glass | 1.00 | 10,00 | 10,00 | 70,00 | 3500,00 |
| NB-1811-010 nm | Glass | 1.00 | 10,00 | 3,00 | 60,00 | 3500,00 |
| NB-1815-035 nm | Glass | 1.00 | 10,00 | 5,00 | 70,00 | 3500,00 |
| | | | | | | |
| --- | --- | --- | --- | --- | --- | --- |
| NB-1815-036 nm | Glass | 1.00 | 10,00 | 10,00 | 70,00 | 3500,00 |
| NB-1816-035 nm | Glass | 1.00 | 10,00 | 5,00 | 70,00 | 3500,00 |
| NB-1830-010 nm | Glass | 1.00 | 10,00 | 3,00 | 50,00 | 3500,00 |
| NB-1830-058 nm | Glass | .50 | 10,00 | 7,00 | 70,00 | 3500,00 |
| NB-1832-039 nm | Glass | 1.00 | 10,00 | 10,00 | 70,00 | 3500,00 |
| NB-1833-037 nm | Glass | 1.00 | 10,00 | 10,00 | 70,00 | 3500,00 |
| NB-1835-017 nm | Glass | 1.00 | 10,00 | 5,00 | 70,00 | 3500,00 |
| NB-1835-038 nm | Glass | 1.00 | 10,00 | 10,00 | 70,00 | 3500,00 |
| NB-1835-065 nm | Glass | 1.00 | 10,00 | 10,00 | 70,00 | 3500,00 |
| NB-1840-010 nm | Glass | .80 | 10,00 | 3,00 | 70,00 | 3500,00 |
| NB-1840-043 nm | Glass | .50 | 10,00 | 10,00 | 70,00 | 3500,00 |
| NB-1842-043 nm | Glass | 1.00 | 10,00 | 10,00 | 70,00 | 3500,00 |
| NB-1870-035 nm | Glass | 1.00 | 10,00 | 5,00 | 65,00 | 3500,00 |
| NB-1885-010 nm | Glass | .55 | 5,00 | 2,00 | 50,00 | 3500,00 |
| NB-1890-054 nm | Glass | .80 | 10,00 | 10,00 | 70,00 | 3500,00 |
| NB-1890-060 nm | Glass | .80 | 10,00 | 10,00 | 70,00 | 3500,00 |
| NB-1900-040 nm | Glass | 1.00 | 10,00 | 10,00 | 70,00 | 3500,00 |
| NB-1902-054 nm | Glass | .80 | 10,00 | 10,00 | 70,00 | 3500,00 |
| NB-1910-052 nm | Glass | .80 | 20,00 | 10,00 | 70,00 | 3500,00 |
| NB-1912-010 nm | Glass | 1.00 | 5,00 | 3,00 | 65,00 | 3500,00 |
| NB-1920-042 nm | Glass | .80 | 10,00 | 10,00 | 70,00 | 3500,00 |
| NB-1925-042 nm | Glass | .80 | 10,00 | 10,00 | 70,00 | 3500,00 |
| NB-1927-030 nm | Glass | .80 | 10,00 | 5,00 | 70,00 | 3500,00 |
| NB-1928-010 nm | Glass | 1.00 | 10,00 | 3,00 | 70,00 | 3500,00 |
| NB-1928-011 nm | Glass | 1.00 | 10,00 | 3,00 | 70,00 | 3500,00 |
| NB-1930-026 nm | Glass | 1.00 | 5,00 | 3,00 | 70,00 | 3500,00 |
| NB-1930-042 nm | Glass | 1.00 | 10,00 | 10,00 | 70,00 | 3500,00 |
| NB-1930-050 nm | Glass | 1.00 | 10,00 | 10,00 | 70,00 | 3500,00 |
| NB-1930-053 nm | Glass | 1.00 | 10,00 | 10,00 | 70,00 | 3500,00 |
| NB-1930-054 nm | Glass | 1.00 | 10,00 | 10,00 | 70,00 | 3500,00 |
| NB-1930-065 nm | Glass | .80 | 10,00 | 10,00 | 70,00 | 3500,00 |
| NB-1933-011 nm | Glass | 1.00 | 10,00 | 3,00 | 50,00 | 3500,00 |
| NB-1933-030 nm | Cemented | 1.00 | 5,00 | 5,00 | 50,00 | 3500,00 |
| NB-1940-060 nm | Silicon | 1.00 | 10,00 | 8,00 | 90,00 | 2400,00 |
| NB-1940-065 nm | Glass | 1.00 | 10,00 | 10,00 | 70,00 | 3500,00 |
| NB-1950-028 nm | Glass | .80 | 10,00 | 10,00 | 70,00 | 3500,00 |
| NB-1955-026 nm | Glass | 1.00 | 10,00 | 5,00 | 70,00 | 3500,00 |
| NB-1960-046 nm | Glass | .80 | 10,00 | 10,00 | 70,00 | 3500,00 |
| NB-1968-042 nm | Glass | .80 | 10,00 | 10,00 | 70,00 | 3050,00 |
| NB-1970-048 nm | Glass | 1.00 | 10,00 | 10,00 | 70,00 | 3500,00 |
| NB-1990-047 nm | Glass | 1.00 | 10,00 | 10,00 | 70,00 | 3500,00 |
| NB-2006-045 nm | Glass | 1.80 | 10,00 | 10,00 | 60,00 | 30000,00 |
| NB-2010-045 nm | Ge | .50 | 10,00 | 10,00 | 90,00 | 4000,00 |
| | | | | | | |
| --- | --- | --- | --- | --- | --- | --- |
| NB-2035-058 nm | Glass | 1.00 | 10,00 | 10,00 | 70,00 | 3500,00 |
| NB-2048-030 nm | Glass | 1.00 | 10,00 | 5,00 | 70,00 | 3500,00 |
| NB-2050-025 nm | Glass | 1.00 | 10,00 | 5,00 | 60,00 | 3500,00 |
| NB-2053-024 nm | Glass | 1.00 | 10,00 | 5,00 | 70,00 | 3500,00 |
| NB-2065-040 nm | Glass | 1.00 | 10,00 | 10,00 | 70,00 | 3500,00 |
| NB-2085-010 nm | Glass | 1.00 | 10,00 | 3,00 | 50,00 | 3500,00 |
| NB-2085-024 nm | Glass | 1.00 | 10,00 | 5,00 | 70,00 | 3500,00 |
| NB-2085-035 nm | Glass | 1.00 | 10,00 | 10,00 | 70,00 | 3500,00 |
| NB-2085-044 nm | B270 | 1.00 | 10,00 | 7,00 | 65,00 | 3500,00 |
| NB-2088-048 nm | Glass | .80 | 10,00 | 10,00 | 70,00 | 3500,00 |
| NB-2089-055 nm | Glass | 1.00 | 10,00 | 10,00 | 70,00 | 3500,00 |
| NB-2090-025 nm | Glass | 1.00 | 10,00 | 10,00 | 70,00 | 3500,00 |
| NB-2090-044 nm | Glass | 1.00 | 10,00 | 10,00 | 70,00 | 3500,00 |
| NB-2090-048 nm | B270 | 1.00 | 10,00 | 10,00 | 65,00 | 3500,00 |
| NB-2093-040 nm | Glass | 1.00 | 10,00 | 10,00 | 70,00 | 3500,00 |
| NB-2097-055 nm | Glass | 1.00 | 10,00 | 10,00 | 70,00 | 3500,00 |
| NB-2100-010 nm | Cemented | 1.00 | 5,00 | 3,00 | 60,00 | 3500,00 |
| NB-2100-025 nm | Glass | 1.00 | 10,00 | 5,00 | 70,00 | 3500,00 |
| NB-2100-075 nm | Glass | 1.00 | 10,00 | 10,00 | 70,00 | 3500,00 |
| NB-2104-025 nm | Glass | 1.00 | 10,00 | 5,00 | 70,00 | 3500,00 |
| NB-2107-010 nm | Glass | 1.00 | 10,00 | 3,00 | 70,00 | 3500,00 |
| NB-2108-010 nm | Glass | 1.00 | 10,00 | 3,00 | 70,00 | 3500,00 |
| NB-2110-010 nm | Glass | 1.00 | 5,00 | 3,00 | 50,00 | 3500,00 |
| NB-2112-042 nm | Glass | 1.00 | 10,00 | 10,00 | 70,00 | 3500,00 |
| NB-2116-020 nm | Glass | .80 | 10,00 | 5,00 | 70,00 | 3500,00 |
| NB-2117-010 nm | Glass | .80 | 10,00 | 3,00 | 70,00 | 3500,00 |
| NB-2118-042 nm | Glass | 1.00 | 10,00 | 10,00 | 70,00 | 3500,00 |
| NB-2120-010 nm | Glass | .55 | 5,00 | 2,00 | 50,00 | 3500,00 |
| NB-2120-038 nm | Glass | 1.00 | 10,00 | 10,00 | 70,00 | 3500,00 |
| NB-2123-013 nm | Glass | .50 | 5,00 | 5,00 | 50,00 | 3500,00 |
| NB-2125-010 nm | Glass | 1.00 | 10,00 | 3,00 | 60,00 | 3500,00 |
| NB-2125-042 nm | Glass | 1.00 | 10,00 | 10,00 | 70,00 | 3500,00 |
| NB-2126-043 nm | Glass | 1.00 | 10,00 | 10,00 | 70,00 | 3500,00 |
| NB-2163-010 nm | Glass | 1.00 | 10,00 | 3,00 | 50,00 | 3500,00 |
| NB-2170-010 nm | Glass | 1.00 | 10,00 | 3,00 | 70,00 | 3500,00 |
| NB-2172-010 nm | Glass | 1.00 | 10,00 | 3,00 | 70,00 | 3500,00 |
| NB-2175-056 nm | Ge | 1.00 | 10,00 | 10,00 | 70,00 | 3500,00 |
| NB-2180-010 nm | Glass | 1.00 | 5,00 | 3,00 | 60,00 | 3500,00 |
| NB-2180-045 nm | Cemented | 1.00 | 15,00 | 10,00 | 60,00 | 3500,00 |
| NB-2190-010 nm | Glass | .80 | 5,00 | 3,00 | 50,00 | 3500,00 |
| NB-2190-043 nm | Cemented | 1.00 | 15,00 | 15,00 | 60,00 | 3500,00 |
| NB-2192-010 nm | Glass | 1.00 | 10,00 | 3,00 | 60,00 | 3500,00 |
| NB-2200-010 nm | Glass | 1.00 | 5,00 | 3,00 | 50,00 | 3500,00 |
| | | | | | | |
| --- | --- | --- | --- | --- | --- | --- |
| NB-2203-026 nm | Glass | .50 | 10,00 | 5,00 | 70,00 | 3500,00 |
| NB-2203-027 nm | Glass | 1.00 | 10,00 | 5,00 | 70,00 | 3500,00 |
| NB-2205-025 nm | Glass | 1.00 | 10,00 | 5,00 | 70,00 | 3500,00 |
| NB-2208-016 nm | Glass | 1.00 | 10,00 | 5,00 | 70,00 | 3500,00 |
| NB-2210-047 nm | Glass | 1.00 | 10,00 | 10,00 | 70,00 | 3500,00 |
| NB-2215-025 nm | Glass | 1.00 | 10,00 | 5,00 | 70,00 | 3500,00 |
| NB-2216-025 nm | Glass | 1.00 | 10,00 | 5,00 | 70,00 | 3500,00 |
| NB-2218-010 nm | Glass | 1.00 | 10,00 | 3,00 | 70,00 | 3500,00 |
| NB-2220-010 nm | Glass | 1.00 | 10,00 | 3,00 | 60,00 | 3500,00 |
| NB-2225-025 nm | Glass | 1.00 | 10,00 | 5,00 | 70,00 | 3500,00 |
| NB-2230-048 nm | Glass | .80 | 10,00 | 10,00 | 70,00 | 3500,00 |
| NB-2230-050 nm | Glass | .80 | 10,00 | 10,00 | 70,00 | 3500,00 |
| NB-2234-025 nm | Glass | 1.00 | 10,00 | 5,00 | 70,00 | 3500,00 |
| NB-2235-025 nm | Glass | 1.00 | 10,00 | 5,00 | 70,00 | 3500,00 |
| NB-2248-027 nm | Glass | 1.00 | 10,00 | 5,00 | 70,00 | 3500,00 |
| NB-2266-060 nm | Glass | 1.00 | 10,00 | 10,00 | 60,00 | 3500,00 |
| NB-2270-010 nm | Cemented | 1.00 | 5,00 | 3,00 | 60,00 | 3500,00 |
| NB-2270-025 nm | Glass | .50 | 10,00 | 5,00 | 60,00 | 3500,00 |
| NB-2290-060 nm | Glass | 1.00 | 10,00 | 10,00 | 70,00 | 3500,00 |
| NB-2294-010 nm | Glass | 1.00 | 5,00 | 3,00 | 50,00 | 3500,00 |
| NB-2300-010 nm | Cemented | 1.00 | 5,00 | 3,00 | 40,00 | 3500,00 |
| NB-2308-025 nm | Glass | 1.00 | 10,00 | 5,00 | 70,00 | 3500,00 |
| NB-2310-025 nm | Glass | 1.00 | 10,00 | 5,00 | 70,00 | 3500,00 |
| NB-2310-050 nm | Cemented | 1.00 | 7,00 | 7,00 | 60,00 | 3500,00 |
| NB-2315-009 nm | Glass | 1.00 | 10,00 | 3,00 | 55,00 | 3500,00 |
| NB-2315-025 nm | Glass | 1.00 | 10,00 | 5,00 | 70,00 | 3500,00 |
| NB-2318-010 nm | Glass | 1.00 | 10,00 | 3,00 | 70,00 | 3500,00 |
| NB-2320-020 nm | Glass | 1.00 | 10,00 | 5,00 | 70,00 | 3500,00 |
| NB-2320-050 nm | Glass | 1.00 | 10,00 | 10,00 | 70,00 | 3500,00 |
| NB-2325-048 nm | Glass | 1.00 | 10,00 | 10,00 | 70,00 | 3500,00 |
| NB-2328-043 nm | Cemented | 1.00 | 15,00 | 15,00 | 60,00 | 3500,00 |
| NB-2336-010 nm | Cemented | 1.60 | 5,00 | 3,00 | 60,00 | 3500,00 |
| NB-2340-048 nm | Cemented | 1.60 | 10,00 | 10,00 | 60,00 | 3500,00 |
| NB-2345-010 nm | Cemented | 1.60 | 5,00 | 3,00 | 60,00 | 3500,00 |
| NB-2345-055 nm | Ge | 1.00 | 10,00 | 10,00 | 70,00 | 3500,00 |
| NB-2348-010 nm | Glass | 1.00 | 5,00 | 3,00 | 70,00 | 3500,00 |
| NB-2360-052 nm | Glass | 1.00 | 10,00 | 10,00 | 70,00 | 3500,00 |
| NB-2365-048 nm | Glass | .80 | 10,00 | 10,00 | 70,00 | 3500,00 |
| NB-2367-009.5 nm | Glass | 1.00 | 10,00 | 3,00 | 70,00 | 3500,00 |
| NB-2376-010 nm | Glass | 1.00 | 10,00 | 3,00 | 60,00 | 3500,00 |
| NB-2392-010 nm | Glass | 1.00 | 10,00 | 3,00 | 50,00 | 3500,00 |
| NB-2580-050 nm | BK7 | 1.00 | 20,00 | 15,00 | 70,00 | 30000,00 |
| NB-2710-050 nm | Glass | 1.00 | 20,00 | 10,00 | 60,00 | 30000,00 |
| | | | | | | |
| --- | --- | --- | --- | --- | --- | --- |
| NB-2900-060 nm | Sapphire | .50 | 15,00 | 10,00 | 60,00 | 30000,00 |
| NB-2925-055 nm | Sapphire | .50 | 15,00 | 10,00 | 60,00 | 30000,00 |
| NB-2950-050 nm | Sapphire | .50 | 15,00 | 10,00 | 70,00 | 30000,00 |
| NB-3030-070 nm | Quartz | .50 | 20,00 | 20,00 | 60,00 | 30000,00 |
| NB-3050-100 nm | Quartz | .50 | 25,00 | 20,00 | 70,00 | 30000,00 |
| NB-3160-060 nm | Quartz | .50 | 10,00 | 10,00 | 75,00 | 30000,00 |
| NB-3175-060 nm | Quartz | .50 | 20,00 | 10,00 | 60,00 | 30000,00 |
| NB-3190-060 nm | Sapphire | 1.00 | 10,00 | 10,00 | 70,00 | 30000,00 |
| NB-3220-060 nm | Sapphire | 1.00 | 20,00 | 10,00 | 70,00 | 30000,00 |
| NB-3320-070 nm | Sapphire | 1.00 | 20,00 | 15,00 | 65,00 | 30000,00 |
| NB-3330-062 nm | Quartz | .50 | 10,00 | 5,00 | 70,00 | 30000,00 |
| NB-3340-070 nm | Quartz | .50 | 20,00 | 10,00 | 75,00 | 30000,00 |
| NB-3374-049 nm | Silicon | .50 | 20,00 | 10,00 | 70,00 | 6000,00 |
| NB-3375-025 nm | Sapphire | 1.00 | 10,00 | 5,00 | 80,00 | 30000,00 |
| NB-3400-050 nm | Quartz | .50 | 10,00 | 10,00 | 70,00 | 30000,00 |
| NB-3465-020 nm | Sapphire | 1.00 | 15,00 | 8,00 | 70,00 | 6500,00 |
| NB-3480-037 nm | Quartz | .50 | 20,00 | 10,00 | 70,00 | 30000,00 |
| NB-3485-048 nm | Sapphire | .50 | 20,00 | 10,00 | 70,00 | 30000,00 |
| NB-3490-042 nm | Quartz | .50 | 20,00 | 10,00 | 70,00 | 30000,00 |
| NB-3498-030 nm | Sapphire | 1.00 | 20,00 | 15,00 | 60,00 | 11500,00 |
| NB-3500-053 nm | Sapphire | .50 | 15,00 | 10,00 | 70,00 | 30000,00 |
| NB-3520-036 nm | Quartz | .50 | 15,00 | 7,00 | 70,00 | 30000,00 |
| NB-3527-042 nm | Quartz | 1.00 | 20,00 | 10,00 | 50,00 | 30000,00 |
| NB-3545-042 nm | Quartz | .50 | 20,00 | 10,00 | 70,00 | 30000,00 |
| NB-3545-045 nm | Quartz | .50 | 20,00 | 10,00 | 50,00 | 30000,00 |
| NB-3570-040 nm | Sapphire | 1.00 | 20,00 | 15,00 | 60,00 | 11500,00 |
| NB-3700-110 nm | Silicon | .50 | 20,00 | 15,00 | 75,00 | 10500,00 |
| NB-3860-080 nm | Sapphire | 1.00 | 20,00 | 20,00 | 60,00 | 30000,00 |
| NB-4120-080 nm | Sapphire | 1.00 | 20,00 | 20,00 | 70,00 | 30000,00 |
| NB-4270-070 nm | Sapphire | 1.00 | 25,00 | 5,00 | 70,00 | 30000,00 |
| NB-4275-050 nm | Sapphire | 1.00 | 15,00 | 10,00 | 70,00 | 30000,00 |
| NB-4515-043 nm | Sapphire | .50 | 20,00 | 15,00 | 70,00 | 30000,00 |
| NB-4515-090 nm | Sapphire | 1.00 | 20,00 | 20,00 | 70,00 | 30000,00 |
| NB-4525-095 nm | Silicon | 1.00 | 40,00 | 20,00 | 70,00 | 11000,00 |
| NB-4720-090 nm | Sapphire | 1.00 | 20,00 | 10,00 | 60,00 | 30000,00 |
| NB-5215-125 nm | Sapphire | 1.00 | 40,00 | 20,00 | 60,00 | 30000,00 |
| NB-5417-111 nm | Sapphire | 1.00 | 50,00 | 25,00 | 60,00 | 30000,00 |
| NB-5470-080 nm | Sapphire | .50 | 25,00 | 35,00 | 55,00 | 30000,00 |
| NB-5680-165 nm | Sapphire | .50 | 40,00 | 30,00 | 60,00 | 30000,00 |
| NB-5685-100 nm | Sapphire | .50 | 40,00 | 20,00 | 60,00 | 30000,00 |
| NB-5710-100 nm | Sapphire | .50 | 40,00 | 25,00 | 60,00 | 30000,00 |
| NB-5727-080 nm | Sapphire | .50 | 40,00 | 15,00 | 50,00 | 30000,00 |
| NB-5750-090 nm | Silicon | 1.00 | 40,00 | 30,00 | 60,00 | 11500,00 |
| | | | | | | |
| --- | --- | --- | --- | --- | --- | --- |
| NB-5750-100 nm | Sapphire | .50 | 25,00 | 20,00 | 60,00 | 30000,00 |
| NB-5756-080 nm | Sapphire | .50 | 25,00 | 20,00 | 60,00 | 30000,00 |
| NB-5785-090 nm | Silicon | 1.00 | 25,00 | 20,00 | 60,00 | 11500,00 |
| NB-6415-110 nm | Ge | 1.00 | 40,00 | 25,00 | 70,00 | 11000,00 |
| NB-6450-230 nm | Ge | 1.00 | 50,00 | 35,00 | 70,00 | 10500,00 |
| NB-6465-194 nm | Ge | 1.00 | 50,00 | 30,00 | 70,00 | 10500,00 |
| NB-6500-260 nm | Ge | 1.00 | 50,00 | 25,00 | 70,00 | 10500,00 |
| NB-6510-100 nm | Ge | 1.00 | 40,00 | 25,00 | 70,00 | 10500,00 |
| NB-6525-100 nm | Ge | .50 | 40,00 | 25,00 | 65,00 | 11250,00 |
| NB-6610-100 nm | Ge | 1.00 | 40,00 | 25,00 | 70,00 | 11000,00 |
| NB-6635-091 nm | Ge | 1.00 | 25,00 | 10,00 | 70,00 | 11250,00 |
| NB-6670-100 nm | Ge | 2.30 | 40,00 | 25,00 | 70,00 | 10500,00 |
| NB-6760-095 nm | Ge | .50 | 20,00 | 20,00 | 55,00 | 11250,00 |
| NB-7230-180 nm | Ge | 1.00 | 50,00 | 35,00 | 70,00 | 10500,00 |
| NB-7285-150 nm | Ge | 1.00 | 50,00 | 35,00 | 70,00 | 15000,00 |
| NB-7320-140 nm | Ge | 1.00 | 50,00 | 30,00 | 70,00 | 15000,00 |
| NB-7335-145 nm | Ge | 1.00 | 25,00 | 15,00 | 70,00 | 15000,00 |
| NB-7356-229 nm | Ge | 1.00 | 55,00 | 25,00 | 65,00 | 13000,00 |
| NB-7820-210 nm | Ge | 1.00 | 50,00 | 20,00 | 70,00 | 13000,00 |
| NB-7850-185 nm | Ge | 1.00 | 50,00 | 30,00 | 70,00 | 14000,00 |
| NB-7900-175 nm | Ge | 1.00 | 50,00 | 35,00 | 70,00 | 11500,00 |
| NB-8224-170 nm | Silicon | .50 | 40,00 | 15,00 | 70,00 | 14000,00 |
| NB-8224-200 nm | Ge | .50 | 40,00 | 30,00 | 70,00 | 14000,00 |
| NB-8224-240 nm | Ge | 1.00 | 50,00 | 30,00 | 70,00 | 14000,00 |
| NB-8235-235 nm | Ge | .50 | 50,00 | 35,00 | 70,00 | 14000,00 |
| NB-8242-150 nm | Ge | 1.00 | 50,00 | 25,00 | 65,00 | 13500,00 |
| NB-8325-180 nm | Ge | 1.00 | 50,00 | 35,00 | 70,00 | 14500,00 |
| NB-8330-165 nm | Ge | 1.00 | 50,00 | 35,00 | 70,00 | 14000,00 |
| NB-8330-180 nm | Ge | 1.00 | 50,00 | 35,00 | 70,00 | 14000,00 |
| NB-8375-160 nm | Ge | 1.00 | 40,00 | 20,00 | 70,00 | 14000,00 |
| NB-8375-180 nm | Ge | .50 | 40,00 | 20,00 | 70,00 | 14000,00 |
| NB-8440-173 nm | Ge | 1.00 | 60,00 | 40,00 | 70,00 | 14000,00 |
| NB-8470-180 nm | Silicon | .50 | 40,00 | 20,00 | 70,00 | 14000,00 |
| NB-8490-180 nm | Silicon | .50 | 40,00 | 20,00 | 70,00 | 14000,00 |
| NB-8550-180 nm | Silicon | .50 | 40,00 | 20,00 | 70,00 | 14000,00 |
| NB-8570-210 nm | Ge | 1.00 | 50,00 | 35,00 | 65,00 | 13500,00 |
| NB-8580-120 nm | Ge | 1.00 | 40,00 | 25,00 | 70,00 | 10500,00 |
| NB-8592-210 nm | Ge | 1.00 | 50,00 | 35,00 | 70,00 | 13500,00 |
| NB-8602-175 nm | Ge | 1.00 | 50,00 | 35,00 | 70,00 | 14000,00 |
| NB-8620-116 nm | Ge | 1.00 | 40,00 | 25,00 | 70,00 | 11000,00 |
| NB-8640-175 nm | Ge | 1.00 | 50,00 | 30,00 | 70,00 | 14000,00 |
| NB-8640-185 nm | Ge | 1.00 | 40,00 | 35,00 | 70,00 | 14000,00 |
| NB-8650-120 nm | Ge | 1.00 | 40,00 | 40,00 | 70,00 | 11500,00 |
| | | | | | | |
| --- | --- | --- | --- | --- | --- | --- |
| NB-8688-180 nm | Ge | 1.00 | 50,00 | 30,00 | 70,00 | 14000,00 |
| NB-8688-201 nm | Ge | 1.00 | 50,00 | 35,00 | 70,00 | 14500,00 |
| NB-8745-180 nm | Ge | 1.00 | 50,00 | 35,00 | 70,00 | 14000,00 |
| NB-8745-220 nm | Ge | .50 | 50,00 | 35,00 | 70,00 | 14000,00 |
| NB-8775-180 nm | Ge | .50 | 50,00 | 35,00 | 70,00 | 14500,00 |
| NB-8785-175 nm | Ge | 1.00 | 50,00 | 35,00 | 70,00 | 14500,00 |
| NB-8785-180 nm | Ge | 1.00 | 50,00 | 30,00 | 70,00 | 14000,00 |
| NB-8834-180 nm | Ge | 1.00 | 50,00 | 30,00 | 70,00 | 14000,00 |
| NB-8834-180 nm | Ge | .50 | 50,00 | 20,00 | 70,00 | 14000,00 |
| NB-8834-210 nm | Ge | 1.00 | 50,00 | 35,00 | 70,00 | 14000,00 |
| NB-8885-178 nm | Ge | 1.00 | 40,00 | 20,00 | 70,00 | 14000,00 |
| NB-8925-175 nm | Ge | 1.00 | 50,00 | 35,00 | 60,00 | 14000,00 |
| NB-10500-250 nm | Ge | .50 | 60,00 | 50,00 | 70,00 | 18000,00 |
| NB-10600-240 nm | Ge | .50 | 60,00 | 50,00 | 70,00 | 18000,00 |
| NB-11300-200 nm | Ge | .50 | 110,00 | 20,00 | 70,00 | 20000,00 |
| NB-12225-210 nm | Ge | .50 | 120,00 | 40,00 | 70,00 | 18000,00 |